VACAVILLE, Calif. (KCRA) - A 35-year-old California man suspected of stealing his roommate's $10 million-winning lottery scratcher was arrested after a weeks-long investigation, the Vacaville Police Department said Tuesday.
Adul Saosongyang was taken into custody Monday after lottery officials invited him to collect his winnings, but instead, he was arrested by officers, police said.
It began on Dec. 20 when a Vacaville man went to a Lucky Grocery Store and bought a $30 scratcher lottery ticket. The ticket turned out to be a winner and the man thought he won $10,000,
The man returned home and "shared this wonderful news with his two roommates," police said.
Investigators believe that night one of the man's roommates, Saosongyang, stole the winning ticket and replaced it with a similar scratcher that had been altered.
"He suspected one of his roommates must have stolen his winning ticket while he was sleeping and immediately reported the theft to the police department," police said.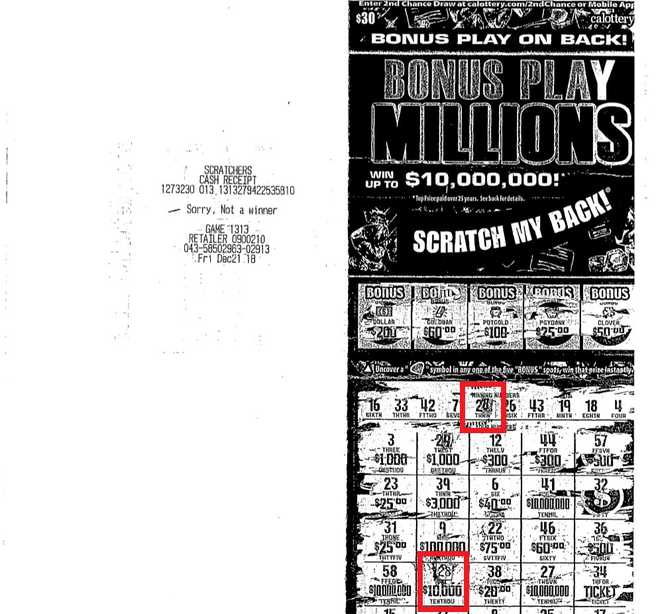 The next day, Saosongyang went to the lottery's Sacramento office to cash in the winning ticket that he allegedly took from his roommate, police said. At the office, Saosongyang was told the scratcher was not worth $10,000 but was worth $10 million.
At this point, the lottery was unaware this ticket had been reported stolen and began their administrative investigation," police said.
While investigating, lottery officials went to the Lucky Grocery Store to get the surveillance video of the original purchase. Police said the footage shows the victim purchasing the winning ticket and then his roommate buying the same type of ticket later that day.
"This is when the Lottery Investigator and a Vacaville PD Detective began comparing notes and working together on this theft investigation," police said.
Lottery officials and the detective then uncovered the theft and the ticket swap, police said.
When Saosongyang walked into the lottery office in Sacramento on Monday, he was arrested on a grand theft warrant, police said. He was booked into Sacramento County Jail and will be transferred to Solano County Jail later in the week.
Lottery officials are still investigating the case. They automatically investigate any winnings over $350,000, California Lottery spokesperson Russ Lopez said.
"We still want to make sure that the true owner of the ticket will get that $10 million dollars," Lopez explained.
Lopez said this case demonstrates an important lesson for players that if they think they won, don't take any chances.
"Sign it. Put it in a safe place only you know about, but you'll remember and then come and claim the ticket," he said.
Copyright 2019 Nexstar Broadcasting, Inc. All rights reserved. This material may not be published, broadcast, rewritten, or redistributed.