Which air rifle is best?
People buy air rifles for several reasons. You may just enjoy them for recreational use in your backyard, or you may have goals of entering shooting competitions one day. Many also use them for hunting small game or even pest control.
Whatever your intended purpose, there are several factors to consider before purchasing if you don't want to end up suffering from buyer's remorse. Among other things, you'll need to consider which propulsion method you prefer, how much velocity you need, what caliber rifle you want and what kind of gun. Some, such as the Gamo Wildcat Whisper, look like traditional hunting rifles, while others appear styled after assault rifles.
What to know before you buy an air rifle
Propulsion method
Air rifles use one of four propulsion methods, including carbon dioxide, pneumatic, pre-charged pneumatic and spring pistons.
CO2 is one of the most popular propulsion methods in shooting competitions due to its convenience and consistency. You simply insert a small CO2 cartridge into your rifle and, after cocking it once, it is ready to shoot again and again until the cartridge is empty.
Pneumatic propulsion is more common in lower-cost, entry-level air rifles. These require you to perform a pumping action to build up compressed air to shoot your pellet. Pneumatic air rifles come in single and multi-stroke options. In the former, you only pump the gun a single time. In the latter, you can pump it multiple times to increase the shooting power based on your needs.
Pre-charged pneumatic air rifles also rely on compressed air. However, they utilize a pre-filled, high-pressure tank rather than depending on the user to produce the pressure by manually pumping the gun. This offers increased power and precision over standard pneumatic air rifles.
The standard option is the spring-piston air rifle. These rely on the user to retract a spring, pushing forward an air charge when pulling the trigger. Expensive spring-piston air rifles are consistent and powerful, but budget-friendly models can be questionable.
Caliber
The majority of air rifles use .177 caliber pellets, which are the standard 4.5-millimeter BBs. These are also the only ones approved for use in International Shooting Sport Federation governed tournaments.
The second most popular caliber is .22, and pellets of this size are for hunting and general-purpose target shooting. They are also allowed in some competitions not overseen by the ISSF.
Along with .177 and .22 caliber pellets, there are many other less-common calibers that you can find, including .20, .25 and .30 on the smaller side and .357, .45, .50 and .58 on the larger side. These large-caliber pellets are suitable for hunting big game.
Features to look for in a quality air rifle
Pellet capacity
Air rifles have varying pellet capacities, with some only holding five BBs and others holding as many as 50 or more. The more powerful the air rifle is or, the larger the caliber it shoots, the smaller the capacity will be.
Noise-dampening technology
Those using their air rifle for hunting should consider opting for a gun with noise-dampening technology. These may be integrated into the rifle itself or as the included silencer you attach to the muzzle.
Aiming aids
There are several types of aiming aids that a rifle may come with or be a part of it. The most basic of these are front and rear sights. Others may include an adjustable scope or red dot sight.
Accessory rail
Accessory rails allow you to add additional aiming aids and other gear as needed. If choosing a model with an accessory rail, it is best to look for one with either a Picatinny or Weaver rail. These have the largest selection of compatible accessories.
Recoil pad
Though air rifles don't have nearly as strong of recoil as powder firearms, some may still find they become uncomfortable on the shoulder with extended periods of use. Choosing a model with an attached recoil pad solves this problem without requiring you to go out and buy this accessory separately.
Adjustable stock
Though not a common feature, some assault rifle-style air guns feature an adjustable stock, allowing you to customize the rifle's length to suit the dimensions of your body.
How much you can expect to spend on an air rifle
Air rifles vary significantly in quality and power, and as such, the prices reflect this discrepancy. You can find affordable, entry-level air rifles for as low as $50.
For $100-$200, your options increase exponentially, and there are many great air guns in this range. Those looking for premium, high-caliber, high-velocity options can spend anywhere from $400 up to a couple of thousand dollars.
Air rifle FAQ
Do I have to get a license for an air gun?
A. In the United States, no federal laws restrict the purchase or use of air rifles. That said, some states and municipalities do have restrictions on the purchase, use and transfer of air guns, so it is crucial to check with your local jurisdiction before doing any of these activities.
Is there a minimum age limit for air rifles?
A. As with licensing, the federal government doesn't set any minimum age restrictions for the use of air rifles. However, some states do. For example, New York prohibits anyone under the age of 16 from possessing an air rifle. Some states, such as New Jersey and Rhode Island, put air rifles in the same category as powder firearms and subject them to the same laws. To be on the safe side, check your local and state regulations before purchasing an air rifle or allowing anyone under 18 to use one.
What is the best air rifle to buy?
Top air rifle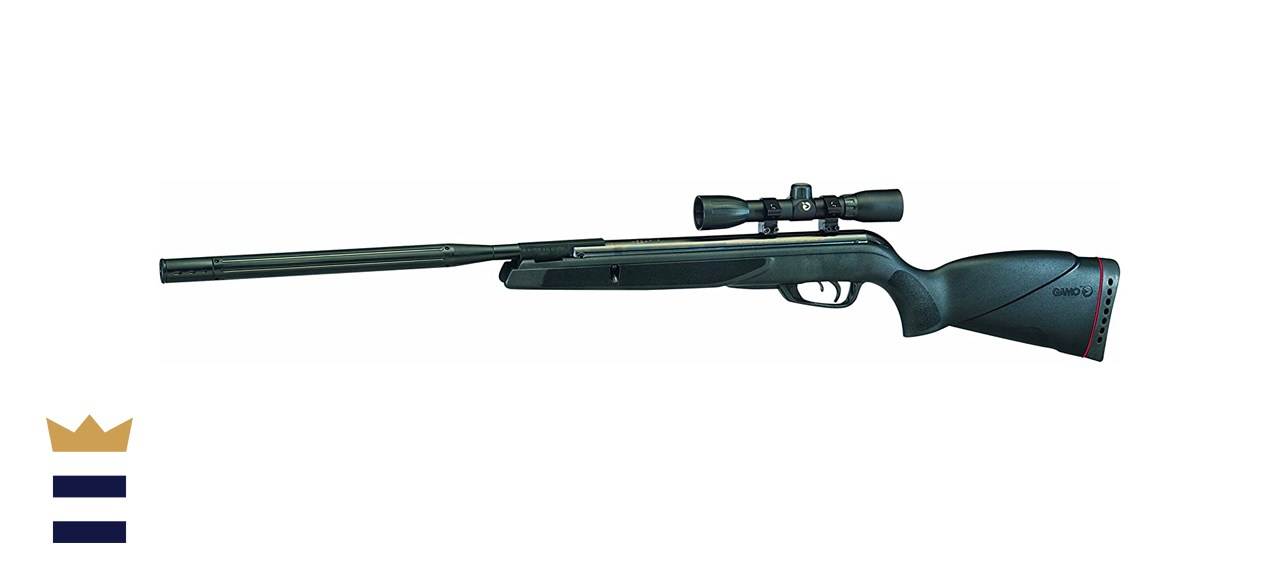 What you need to know: The Wildcat Whisper is a high-velocity air rifle available in two caliber options.
What you'll love: It's lightweight for an air rifle with its power and accuracy, and it comes with a 4 by 32 shockproof scope to help you hit your target.
What you should consider: Despite being called the Whisper and featuring noise-suppressing technology, it is surprisingly loud.
Where to buy: Sold by Amazon
Top air rifle for the money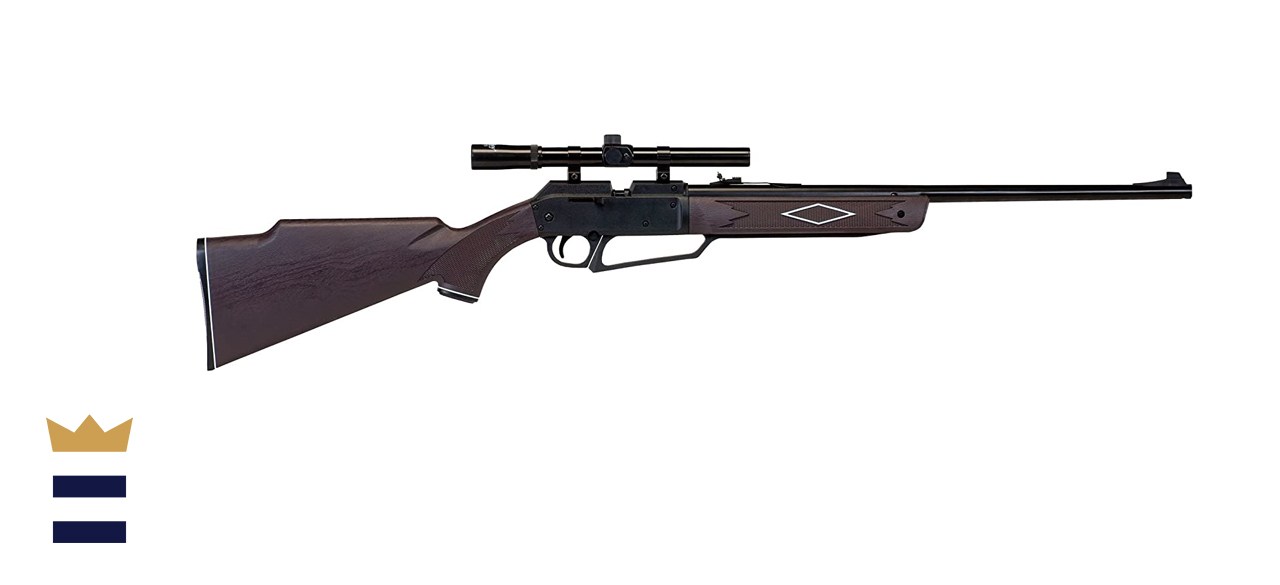 What you need to know: An affordable, entry-level choice, the Powerline 880 is the perfect model for beginners yet still shoots pellets at a decent velocity.
What you'll love: The pump-style propulsion means you won't have to worry about buying CO2 cartridges or filling a tank with compressed air. Plus, it has some smart safety features that minimize the chances of injury by inexperienced users.
What you should consider: Its plastic construction makes it feel low-quality, and it isn't super accurate.
Where to buy: Sold by Amazon
Worth checking out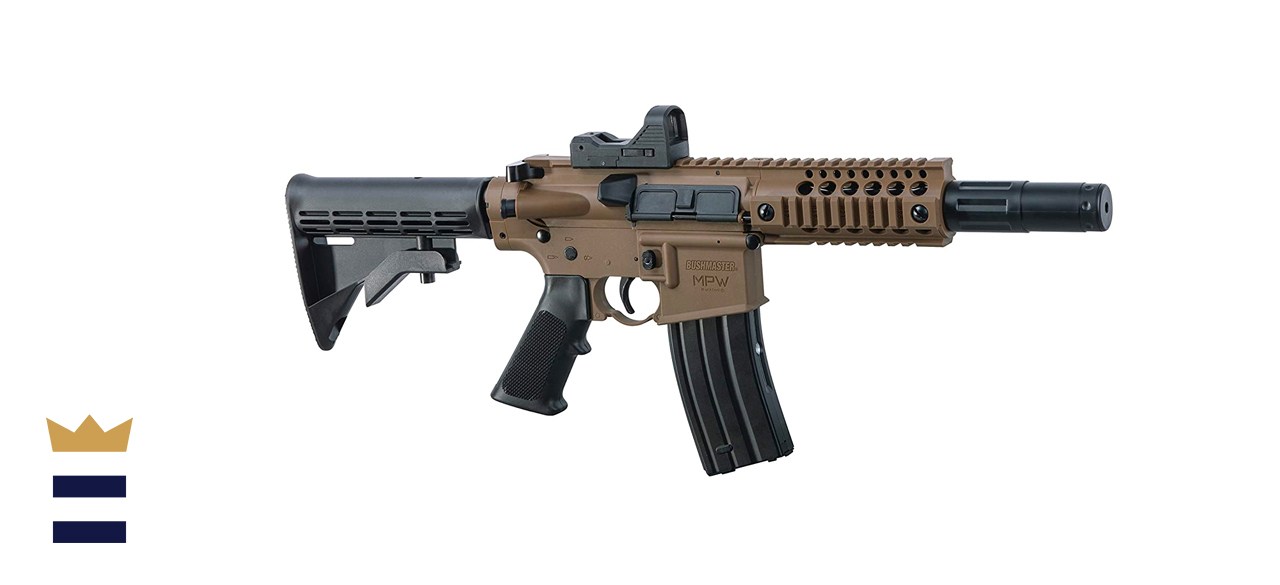 What you need to know: Ideal for those looking for something different than the standard hunting-style air rifle, the Bushmaster MPW is modeled after an assault rifle and is capable of full automatic shooting.
What you'll love: It can shoot up to 1,400 pellets per minute and has a rail-mounted red dot sight that makes it easy to stay on target.
What you should consider: Its velocity is lower than you would expect, considering the price and quality build.
Where to buy: Sold by Amazon
Sign up here to receive the BestReviews weekly newsletter for useful advice on new products and noteworthy deals.
Brett Dvoretz writes for BestReviews. BestReviews has helped millions of consumers simplify their purchasing decisions, saving them time and money.
Copyright 2021 BestReviews, a Nexstar company. All rights reserved.