It was the fourth quarter of the Bills' wild-card playoff game against the Dolphins, and the stakes couldn't have been much higher. Miami had cut the Bills' lead to 34–31, there were seven minutes left, and Josh Allen and his offense were facing third-and-1 at their own 19-yard line.
Offensive coordinator Ken Dorsey called a levels concept, giving Allen options underneath to take easy money and move the sticks. The problem, after the snap, was that the Miami defense was playing low, leaving extra defenders closer to the line to blanket Stefon Diggs, Dawson Knox and Devin Singletary, while compromising the deeper parts of the field (with no safety help) to try to influence Allen to make a tougher throw.
Allen, indeed, let one rip.
But the story here isn't that Allen put the ball downfield. It's the situation in which he chose to pull the trigger, and where he was going with the ball—to rookie fifth-rounder Khalil Shakir. With all that was on the line, both personally, and for his team, Allen threw it maybe 50 yards in the air, just over Miami corner Kader Kohou and into Shakir's outstretched hands.
The 31-yard hookup put the ball at midfield and, ultimately, gave the Dolphins worse field position and less time for their final drive, which would die out back around midfield. And it showed something bigger and broader, too—something proven earlier in the game with a 54-yard bomb to Shakir just before the half that wound up being overturned and even a 12-yard throw to undrafted tight end Quintin Morris to spark a third-quarter scoring drive.
Allen trusts these guys, and he trusts them because all of the little things he does to make sure they'll be ready—stuff like identifying the new players in training camp and making sure they get reps with him, even if they aren't first-teamers yet, so he can learn their body movements and how they react to a defense, and build chemistry with them. He also works to trust them because, well, he knows he's going to have to.
This is a new phase of the Allen era in Buffalo, one marked over the last couple of weeks by calculated inactivity in a marketplace the Bills have made their playground in recent years.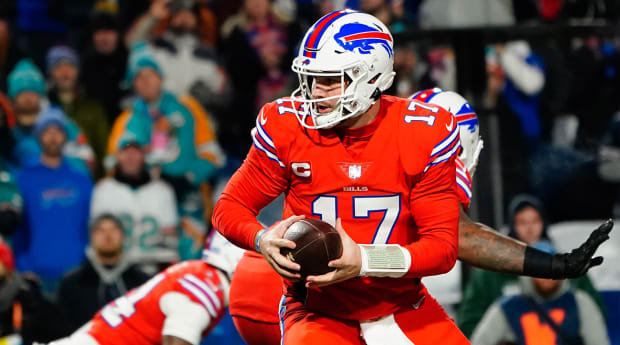 That the Bills have been so quiet isn't, by the way, any indictment of where they are. It's an endorsement, in fact, of the core they've now paid and are invested in. No one more so than Allen, who'll have to shoulder a heavier load with the team's financial ledger setting up the way it does and, more often, rely on a guy he's helping to bring along, like Shakir, rather than the kind he could lean on, and the Bills could afford, in the past.
"Josh welcomes that," Bills GM Brandon Beane said Friday afternoon. "He's going to be able to help make those guys better and teach them the way to go and how to be a pro, and then what he's going to demand out of each one of them, like you would expect a veteran quarterback to do. That just naturally happens over time. … Those guys are kids coming in, and they're looking up to Josh Allen. Wow, I'm playing with Josh Allen.
"If he says, Do this, that's what they're gonna do. That naturally is happening."
And for the Bills to win a championship, or championships, in the coming years, it'll have to.
This is the challenge the Chiefs surmounted last year, in trading Tyreek Hill and having nine of their 10 draft picks active for all three of their playoff games (four started in the Super Bowl). It's the challenge that'll soon be facing the Bengals, Chargers and Eagles, too.
It's where, as an organization, you want to be five years after drafting a quarterback.
But that doesn't mean it's easy.
---
We're filing The MMQB column from Phoenix this week, where the NFL's biggest power brokers are gathered at the Arizona Biltmore for the annual meeting. There'll be a lot of business done here, football and otherwise. So we have plenty coming for you this Monday morning, including …
• A look at a funky situation between the Ravens and Lamar Jackson, and the potential path out of it.
• An overview of the rules changes up for vote in Arizona.
• The Packers-Jets standoff over Aaron Rodgers.
• A big week for the draft-eligible quarterbacks, and a whole lot more in the takeaways.
But we're starting with Beane, Sean McDermott and the challenge the Bills are facing now.
---
The planning for this started, really, before Allen was even drafted. Beane was hired in May 2017, after that April's draft and after just about all of that offseason's big-ticket trades and signings. The challenge he found was a typical one for new GMs—a salary cap that had been overleveraged by a previous regime playing the win-now game to keep their jobs.
At that point, it was too late to do anything about it for the coming season. But what Beane, McDermott and top lieutenants Joe Schoen and Brian Gaine, just hired from Houston and Miami, respectively, could do was start to map out the future.
In an ideal world, they could start offloading pieces that both had value to other teams (and likely wouldn't be around long-term) to build draft capital for a run at a quarterback in 2018. At the same time, they'd be laying the groundwork to carry a boatload of dead money on their cap that next year, with the rookie signal-caller on board—a tough pill to swallow, for sure, but one worth taking to maximize that QB's rookie contract in Years 2, 3 and 4.
They traded Sammy Watkins to the Rams for a second-round pick, Ronald Darby to the Eagles for a third and Reggie Ragland to the Chiefs for a fourth that summer. Before the trade deadline, they offloaded Marcell Dareus, and his outsized contract, for a conditional pick that became a fifth. They moved quarterback Tyrod Taylor for a third after the season.
They used the capital to move up for Allen and Tremaine Edmunds (with the vision to have the two as their centerpieces on offense and defense) and, despite making the playoffs for the first time in 17 years in 2017, dug their heels in on the plan, swallowing about $50 million in dead money on the '18 cap. That year, three of the four highest cap figures on the team belonged to players no longer on the Bills' roster, and I remember McDermott leveling with me about the drawbacks to what they were doing, right before that season began.
"Heck yeah, you want to go out and spend money," he told me. "But the draft picks, there were only so many left from before we got here. That's a challenge, we're not able to depend on those players, they aren't here anymore. And the cap wasn't in good shape, in order to go out and spend, and do some things we wanted. And you don't want to mortgage, because then you keep having to pay the debt on that mortgage."
Five years later, McDermott's point stands.
"As soon as you know you got your guy, and we pretty quickly knew that [Allen] is gonna be a guy we gotta save for, then you start operating in that fashion that we'll try to pay him after Year 3," Beane says. "If we couldn't get it done then, we'd be planning, All right, we'll try again after Year 4, and not be spending too much in other areas so that signing him doesn't mean you have to tear the team down."
All of that illustrates where the Bills are now, with the challenge having changed again. Buffalo's made the playoffs four years in a row and won three straight AFC East crowns, in part because all that cap-clearing allowed for Beane and McDermott to load up through the meat of Allen's rookie contract. Now, finally, that's coming back around.
Allen's cap number in the first year of his six-year, $238 million extension, signed in the summer of 2021, was $10.2 million. Restructures knocked the last two years' cap numbers under $20 million, but the effects of the deal have reverberated elsewhere on the roster.
"This is where we're at, because the numbers are definitely getting bigger," Beane says. "You're always praying for that cap to keep rising fast. We're looking, and that's why we want all outsiders, fans and whoever else to know that we weren't going to be big spenders this year. It's part of the planning. If we spend too big, then that just means in a year or two, we're gonna be in the situation to start losing key players just to get under the cap."
And this offseason, really, has been all about that.
---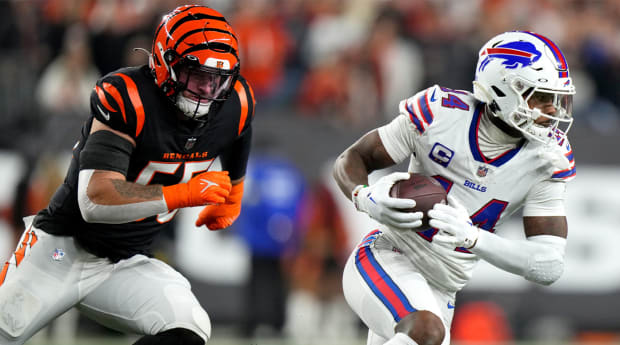 As Beane said, the messaging was intentional in the weeks after the Bills' devastating loss to the Bengals in the divisional round of the playoffs: Buffalo was going to shift into the next phase of its long-term plan. That meant there'd be no top-of-the-market addition like Diggs or Von Miller, with draft capital and cap space at a premium much more so than it had been over Allen's first half decade in Buffalo.
The damage has been felt already. So, too, has the shift in strategy. Here, then, are some areas where it's most visible.
• Drawing harder lines in retaining players. The Bills would've loved to have kept Edmunds, but once the price crossed $15 million per year, the aforementioned calculated restraint kicked in, and the Bears (with their own QB on a rookie contract) wound up getting him for $72 million over four years. And it's not that the Bills hadn't done that sort of thing before—they had drawn lines with Shaq Lawson and Jordan Phillips in years past, and liked both enough to eventually bring them back—it's just that the lines are brighter and stiffer now.
Conversely, they had to draw similar lines with bedrock safety Jordan Poyer, and, when he didn't get the windfall he hoped for, the Bills got him back at a very reasonable rate of $12.5 million over two years (largely because Poyer is now 32).
• Draft picks have heightened value. The Bills can look to the Chiefs here: Kansas City prioritized volume of selections to work on filling out its roster, and nine of its 10 picks from 2022 were active for all three of the team's playoff games, including the Super Bowl. That's one reason why it was important for Beane to get a fifth for Cody Ford last summer, giving Buffalo flexibility to spend a fifth to get Nyheim Hines ahead of the trade deadline.
"We'll always use free agency to try and fill up as many holes as you can so that you can draft the best player available," says Beane. "It's getting harder and harder to fill all your needs in free agency. So maybe there is a position or two now that you say, Hey, first three or four rounds, we make sure we hit this position or that position. Whereas maybe before we've gone in and felt like we're in a good spot, let's just sit here and take the best player."
• Choices have to be made at every position. The Edmunds situation is certainly a strong example of it—just as it became clear they'd lose Allen's draft classmate, the Bills moved to invest in another off-ball linebacker, and Matt Milano got extended. The Bills have a right tackle, Spencer Brown, on a rookie contract opposite Dion Dawkins, and a bevy of rookie-contract edge rushers (Greg Rousseau, Boogie Basham, A.J. Epenesa) bookending Miller on defense. The 2022 draft revealed a similar approach, with Tre'Davious White at corner.
"Corners is one of the positions that's a premium spot," Beane says. "When we were drafting in the bottom rounds, what we were finding out is there were slim pickings. This was from previous drafts where we were picking in the bottom of Round 1. By the time you get around to it, you're starting to say, Am I sure this guy can definitely come in and help us right now? We were looking for people that could come and play right away."
So the Bills spent their first pick (Kaiir Elam) and a Day 3 pick (Christian Benford) on corners, and they relied pretty heavily on both (more than 800 combined snaps) as rookies.
Soon we might see the same sort of dynamic at receiver, where keeping Gabe Davis figures to be a challenge with Diggs on the team's ledger. And players like Shakir and maybe a receiver or two not even on the roster yet could be relied on to make up the difference.
• That creates a dynamic where coaches have to earn their keep. Twenty years ago, Bill Polian hired Tony Dungy for the Colts, first and foremost, because he was a really good football coach. But there was something specific there, too. In Tampa, Dungy had gotten young players in position to play very early in their careers. Polian would need him to do that in Indianapolis, because, with Peyton Manning, Marvin Harrison, Reggie Wayne, Dallas Clark and Dwight Freeney coming up for contracts, the Colts would have to be young elsewhere.
That, now, is the challenge facing McDermott and his staff. The Bills have to get guys like Brown and James Cook and Shakir ready to play faster, mostly out of necessity.
"Coaches generally prefer not to play very many rookies. That's just natural, and you don't blame them for that. It takes time," Beane says. "The pro game can definitely, depending on the position, be a big change from college. So you have to have coaches that are willing and ready to get rookies ready to play. Maybe they're not a starter Week 1, but as the season goes along, you use them more and more. You have to do that when you're paying these quarterbacks like that or you'll just run out of good players to be able to put out there."
---
Now, with all that said, there are advantages, too, that help to balance the books.
No, a player of Miller's caliber wouldn't come to Buffalo without Allen's presence. But the thing about Miller is because of his contract, as great as he is, he doesn't really help you cheat the system. Guys like guard David Edwards (45 starts in four years with the Rams) and tailback Damien Harris (more than 2,000 rushing yards in four years as a Patriot) do. Each will make about $1.7 million on one-year deals in Buffalo.
Getting those prices, of course, has nothing to do with the Bills' being shrewd negotiators. The motivation for both guys was pretty clear: Going to Buffalo meant getting a chance to play with Allen, chase a ring and reestablish their value for the following year. In other words, they're doing essentially what JuJu Smith-Schuster did last year in Kansas City, and for good reason, which is a really good result for Buffalo.
Then there's Allen's involvement, which ranges from what he sees in what's around him, to what he's caught studying and playing against certain opponents. It's good for the Bills to keep him involved at that level, for obvious reasons, and the information gives Beane and his staff context and perspective that'd be hard to get anywhere else.
From there, there's just that idea, again, of Allen's having gotten good enough to win with less around him, or at least less experience around him, than he was asked to earlier in his career. Ultimately, a quarterback's ability to do that is what makes giving him a megacontract worth it. And in this case, it's what makes these problems caviar problems for Beane, McDermott, and the entire Bills organization.
"It's a quarterback league. It's the most important position in all sports, and you either got one or you don't," Beane says. "That was one of the underlying issues with this organization for 17 years of not making the playoffs. Jim Kelly's run ends, and they were never able to find the franchise guy. Sean and I knew, coming in here, first and foremost, We have to find and identify who can be a franchise quarterback. …
"Once you find that guy, that gives you a chance. … When you have a quarterback and you're consistent at that position, if you just surround him with a good crew, you can say you have a chance every year for the ultimate prize. Having Josh gives us that shot."
And in the end, this plan, hatched all those years ago, should keep giving Allen shots at the ultimate prize.