GREENVILLE, S.C. — The No. 1 South Carolina Gamecocks have a system for cutting down nets.
They've had plenty of practice: Since coach Dawn Staley arrived on campus in 2008, they've racked up SEC conference titles and Final Four appearances and a pair of national championships. So when they sealed a third consecutive trip to the Final Four on Monday with an 86–75 win over No. 2 Maryland, extending an unbeaten season, they knew just what to do.
The process is overseen by Freddy Ready, the team's director of player development, who has been with the program since 2002. True to his name, Ready is always prepared, and he noticed the need for structure after the Gamecocks' second conference title in '15. ("We had a snafu," he explains. If you let people cut willy-nilly, sure enough, the net will lose the structural integrity needed to wear it as a celebratory necklace. That's a rookie mistake—and under Staley, this program rarely makes mistakes, and it almost never repeats them.) So Ready now stands by the ladder, steadying players and team personnel as they climb, and gives them explicit instructions on just where to cut.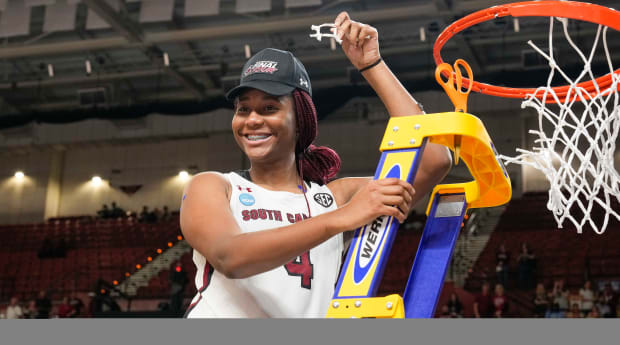 Everyone gets one strand of the net. There's one exception: The seniors. The graduating players are permitted to walk away with not just a single thread but a whole nylon diamond. That involves a little bit of extra cutting. But it's a privilege. "If you do too many diamonds, it's going to mess it up," Ready explains, gesturing to show how making too many cuts will be ruinous. "So we only give that to the seniors, to allow them to have that opportunity." And there are perhaps no seniors who could deserve it more than the current set.
This group represents the most accomplished recruiting class in the history of the program. Dubbed "The Freshies," the nickname they earned as freshman, they are 129–8 in their four-year careers. They have seen South Carolina go from a rising power to a heavyweight that invites discussions of dynasty, and after winning the national championship last year, they are now the favorites to do it again.
Their Elite Eight win over Maryland demonstrated why. The Terps came out fast and physical—forcing turnovers and complicating play in the half court. It was by far the biggest challenge the Gamecocks had faced so far this March, and after the first quarter, Maryland led 21–15. But there was no sense of panic. Instead, South Carolina locked into its trademark defense, steadily increasing the pressure until it became suffocating. With Maryland sitting its best players for long stretches due to foul trouble, South Carolina had an opportunity, and it wasted no time in executing. The win made it easy to remember why the Gamecocks are undefeated. It also made it hard to see how they might possibly lose.
Which meant the seniors got to climb the ladder one by one to cut down the net under Ready's watchful eye. He reminded each of them: You can go for the diamond now! And yet… most did not.
Zia Cooke, who finished with 18 points and eight rebounds, has grown into a tremendously skilled ballhandler leading the backcourt. But she freely admits that she's horrible with scissors: no diamond for her.
"I just did a line," Cooke said. "It's just too hard for me."
Brea Beal is among the best perimeter defenders in the country, a versatile player who contributed 16 points, seven rebounds and six assists Monday. She's typically fearless on the court. Once a ladder is involved? Not so much. She, too, skipped the diamond.
"Between you and me," Beal said, "I'm scared of heights. So I get in and get out."
Olivia Thompson is "the best teammate that you could ever have," according to Staley. But she's also a tad superstitious. That meant she stuck with the single strand she's been cutting down for years now.
"I'm saving my diamond," Thompson said, before rushing to clarify: "Hopefully. Fingers crossed. We've got to take it one game at a time."
But there was one player who desperately wanted to make those extra cuts, who has grown into her role as a leader, who had been waiting for this a long time. Ready had no doubt about this one: Aliyah Boston was getting that diamond. How could she not?
The reigning National Player of the Year tucked the piece of nylon into her Final Four hat for safekeeping. She thought of cutting down her very first net years ago, as a freshman after the 2020 SEC championship, and how surprisingly difficult that had been—the net was tougher than she'd realized, the scissors duller, and she'd found herself hacking away to get that one little scrap. It had gotten so much easier with time. She had gotten so much better.
"I think I've worked on my cutting skills, for sure," Boston said, grinning. "I was awful at first."
South Carolina's greatest asset is its depth. That starts with players like Cooke and Beal, building with the length and defensive presence of Victaria Saxton and Kamilla Cardoso, getting still more with the guard play of Raven Johnson and Kierra Fletcher, topped off with do-it-all bench weapons like Laeticia Amihere and Bree Hall. It's a stunning collection of talent. And yet: There is no one like Boston. Opposing squads throw everything they have at her. It can feel like she is triple-teamed more often than double-teamed. But with her physicality, her vision, her poise, she nevertheless manages to produce. On Monday, with her team trailing early, Boston stepped up to control the game, with both offense and defense flowing through her.
She finished with 22 points, 10 rebounds and five assists and was named Most Outstanding Player.
"Her experience in this kind of situation is so important," Thompson says. "It just has a trickle-down effect. Everyone else just kind of feels her leadership, her maturity, her calmness."
This was by far her best net-cutting job, Boston said. She was proud of how smooth it had looked. But does she think she still has a little room to grow? If, say, there's one more net to cut down in her future?
"Absolutely," she said, gazing fondly at her diamond. "Absolutely."