Good morning, I'm Dan Gartland. I might have been wrong with my Nuggets in five pick.
In today's SI:AM:
🏀 A wake-up call for the Nuggets
😡 Aaron Boone's propensity for ejections
🏌️‍♀️ Rose Zhang's incredible debut
If you're reading this on SI.com, you can sign up to get this free newsletter in your inbox each weekday at SI.com/newsletters.
Not so fast
Don't hand the Larry O'Brien Trophy to the Nuggets just yet.
Entering the final quarter of Game 3, it looked like Denver was on its way to another convincing victory and a 2–0 series lead. The Heat had gotten out to an early 21–10 lead midway through the first quarter, but the Nuggets responded with a 40–14 run over the next 12 minutes of play to build a sizable lead. While the Heat never let the game get out of hand, Nikola Jokić's 18-point third quarter created the sense that Denver was in control heading into the final period with an 83–75 lead.
And then the Nuggets folded. The Heat started the fourth on a 29–10 run to take a 104–93 lead, and while Denver did manage to cut the deficit to three with about a minute to play, it was too little too late. The collapse was the kind of wake-up call the Nuggets needed, Chris Mannix writes:
The pay-attention-to-us Nuggets spent two days reading flowery press clippings and thought they won something. The team that spent weeks screaming for respect went out and showed Miami none. The nonchalance Denver played with in the second half was positively Celtics-esque, and now the kings of the Western Conference have lost home court advantage to a team that unequivocally believes it can beat them.
Denver coach Michael Malone blasted his team after the game for its lack of effort.
"​​Let's talk about effort. I mean it's the NBA Finals, and we're talking about effort," Malone said. "That's a huge concern of mine, and you guys thought I was just making up a story line after Game 1 when I said we didn't play well."
The story of that pivotal fourth quarter was Duncan Robinson. Robinson had been one of several Miami players who struggled in Game 1, scoring three points on 1-of-6 shooting in 21 minutes of action. In the first three quarters of Game 2, he was at best a nonfactor. His only entry in the box score was one foul, and the Heat were outscored by 20 points in his roughly seven minutes on the court. But Robinson flipped the switch in the final quarter, leading the Heat with 10 points on 4-of-5 shooting. All of his points came as Miami began the quarter on a 15–2 run to take hold of the game.
Defensively, the difference for the Heat was their ability to limit Jokić's talents as a distributor. He scored 41 points (his most since he dropped 53 in Game 4 against the Suns) but had only four assists, his fewest in a game this postseason, and turned the ball over five times. Miami coach Erik Spoelstra bristled at a question in his postgame press conference about whether the Heat tried to force Jokić into being more of a scorer than a passer, but it's undeniable that Jokić's approach in Game 2 was far different from Game 1—and the outcome of the game was different.
"I trust Nikola. He's going to read the game. He's going to read how he's being guarded and he's also going to pick his spots where he knows regardless of how he's being guarded; we need him to score and be aggressive and look to score," Malone told reporters. "Whether it's 41 points, only four assists, or it's 25 points and 15 assists, Nikola, one thing I trust about him is he's going to make the right read time and time again."
The Heat's win changes the shape of the series as it shifts to Miami on Wednesday. The Heat have seized home court advantage and presented a blueprint for how they can win. The Nuggets are still the more talented team and have the best player on the court, but Miami won't go away quietly.
The best of Sports Illustrated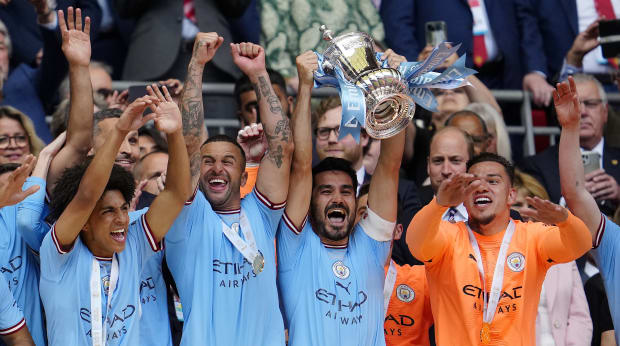 The top five...
… things I saw yesterday:
5. 7'3" NBA player Kristaps Porziņģis's photo with 5'3" F1 driver Yuki Tsunoda.
4. Hideki Matsuyama waiting to board his Spirit Airlines flight home after winning $275,500 for finishing tied for 16th at The Memorial.
3. Rafael Leão's two excellent goals for AC Milan.
2. Rangers center fielder Travis Jankowski's home run robbery.
1. Indiana State left fielder Adam Pottinger's fake home run robbery.
SIQ
On this day in 1957, Hall of Fame pitcher Don Drysdale threw the first of his 49 career shutouts in a Dodgers home game played in which city where Brooklyn played 15 regular-season "home" games in '56 and '57?
Los Angeles
Albany, N.Y.
Jersey City, N.J.
New Haven, Conn.
Friday's SIQ: True or false: When Lou Gehrig supplanted Wally Pipp in the starting lineup on this day in 1925, clearing the way for Gehrig to begin his streak of 2,130 consecutive games played, it was because Pipp complained of a headache.
Answer: False. The popular story of Gehrig's big break states that Pipp arrived in the Yankees' clubhouse that day asking his teammates if they had an aspirin to treat his headache. Hearing that Pipp wasn't feeling well, manager Miller Huggins opted to put Gehrig in the starting lineup instead.
But the story isn't accurate. While Pipp did suffer from recurring headaches, apparently as the result of an old hockey injury, that wasn't the reason he was held out of the lineup that day. In reality, he just wasn't hitting well, the Yankees were sputtering and Huggins decided to give the new guy a shot.
As an impressively thorough 2003 Snopes article by David Mikkelson lays out, the headache story has some basis in reality. Pipp was hit in the head by a pitch during batting practice and hospitalized with a concussion. But that incident occurred July 2, 1925, not June 2.
The concussion essentially ended Pipp's Yankees career. He was sidelined for more than a month and made just 12 appearances as a pinch hitter and pinch runner after he returned, failing to pick up a single hit in 10 plate appearances. The Yankees sold him to the Reds after the season.