We knew Week 4 would be box office, and boy were we ever right. Storylines abound from college football's first blockbuster week, with notable matchups up and down the slate. But digging into Week 4's notable results, we here at SI are determined to find the answer to the question: Which team does the final score say more about?
Oregon 42, Colorado 6 says more about: everyone else who plays Colorado from here on out
It was clear that Oregon entered the game against Colorado looking to send a message. There's no doubt that message was heard loud and clear in the 42-6 beatdown of the Buffaloes. But what the result says hints at how Colorado's season is going to play out from here on out. Deion Sanders said something telling after the game:
"Teams are trying to beat me," Sanders said. "They're not trying to beat our team. They keep forgetting I'm not playing anymore. I had a great career. I got a gold jacket I ain't buy, so I'm good. But that's what it really is. I don't think they get any extra satisfaction, you know? It is what it is. And I signed up for it so let's go."
Maybe not teams, but at least coaches are absolutely emboldened by the fact that Sanders is on the other sideline and has gathered an incredible amount of attention so early in his Colorado tenure. There's going to be more than a little professional jealousy and a serious wish to cut the Buffs down to size. Oregon took that opportunity, and if you're good enough to do the same (like USC is) it's pretty obvious that teams aren't going to be keen on letting up on Colorado moving forward. There are some opponents that the Buffs will play an even game with, but if you can out-talent them, expect scores to get ugly in order to prove a point.
Florida State 31, Clemson 24 says more about: Clemson
We knew Florida State was a contender after the LSU game, and the team's quest to secure the ACC crown will play out in the weeks to come. But what we now know at this point is that the Tigers simply are what they are. Can they bang with the best in the trenches? You betcha. But as presently constituted, they just do not have the juice to go toe to toe with college football's elites. The culprit? The offense. Clemson rarely goes vertical in the passing game, and the apparent lack of playmakers is so easy to spot when you see what they have to do to sustain drives. Dynasties don't come back to the pack overnight. But in the last 12 months, the Tigers have taken an embarrassing loss on the road to Notre Dame and seen the end of the Palmetto Bowl winning streak by losing to South Carolina. And now, their perch atop of the ACC can't be considered precarious because they aren't sitting on it anymore at all.
Ohio State 17, Notre Dame 14 says more about: Notre Dame
We've got time to figure out Ohio State since their key matchups against Penn State and Michigan aren't until later in the season. But we did just find out quite a bit about Notre Dame—mainly that the Irish still have the same deficiencies at wide receiver corps that hinder their ability to hit their own explosive plays. Adding Sam Hartman at quarterback was a key addition, and their offensive front is as formidable as it appeared against lesser competition. But someone needs to take the top off the defense for Notre Dame's offense to reach the next level.
Penn State 31, Iowa 0 says more about: Penn State
Finally, we get to see Penn State drop the hammer. The Nittany Lions played a mature game against the Hawkeyes in that they didn't let the moment get too big for them and they didn't press. They were able to let their athleticism shine through and eventually overwhelm an overmatched Iowa team. This clearly isn't the Iowa that drags you down to their level and notches the win because they force you to play their style. While Iowa might not be talented enough to spring their usual trap, Penn State still deserves plenty of credit for not falling into it.
Utah 14, UCLA 7 says more about: Utah
The Utes are still the Utes. Dread them, run from them, but when you play them remember that your destiny will arrive: to get beaten to a pulp and unable to move the ball to the level you're accustomed. That's just the Utah way, and UCLA just so happened to be next on the schedule. UCLA's 3-for-17 mark on third downs was the clearest indication that you can try to do whatever you want against Utah, but the Utes will force you to play the game on their terms, which makes it pretty damn hard to beat them at it.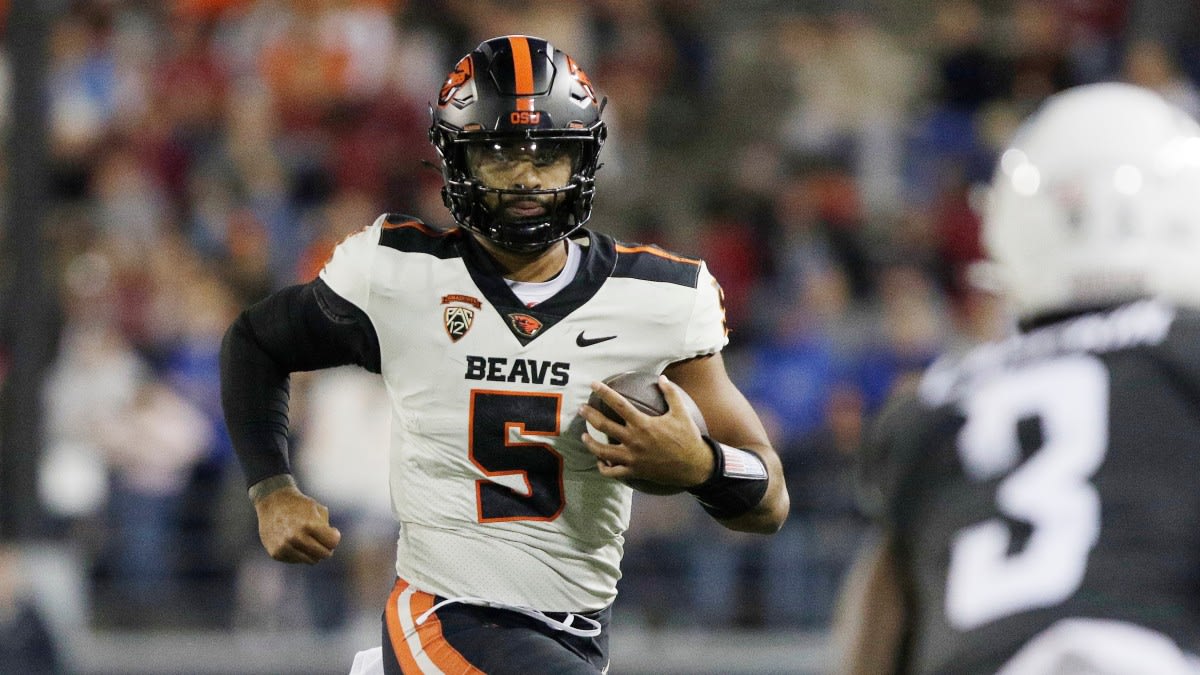 Washington State 38, Oregon State 35 says more about: Oregon State
Yes, the Beavers came back in the end to make it a game, but the bulk of this game was unfortunately about the ceiling of Oregon State's offense. Unless quarterback DJ Uiagalelei raises his game as a passer, there is only so far these Beavers can go. Uiagalelei was outstanding in the second half, using his legs on designed runs, and it's clear that Oregon State can use that to their advantage this season moving forward. But the passing game faltered in key moments, and Utah comes to town Friday, which will present a steep test considering the challenge the Utes pose up front.
Alabama 24, Ole Miss 10 says more about: Ole Miss
Alabama made another quarterback change. Ole Miss head coach Lane Kiffin said he had a beat on who was calling Bama's defense plays. The Tide kicked a field goal on a third down by accident. Jalen Milroe remains limited as a passer. And still the Rebels were unable to beat the Tide, or even stop them from pulling away from them in the end. It's the fourth time in Kiffin's tenure that, despite giving Bama its best shot and having a reasonable opportunity to down them, the Tide found a way to roll in the end.