For once—and perhaps just this once—it doesn't feel like the media is leading the franchise player by the tail.
So often, the critiques levied against talking heads are that they pull certain levers and build narratives about small-market superstars to create headlines and draw higher TV ratings. But in this latest case, involving two-time MVP Giannis Antetokounmpo saying he wouldn't agree to an extension with the Bucks before next season and that he wants assurances the club will remain a title contender before signing, it was the player creating speculation all on his own.
Yet we should be crystal clear on something: For all the questions his comments have created, it makes complete sense for Antetokounmpo to take the contractual stance he has. In fact, it'd be a bit foolish for him to handle the issue any differently than this.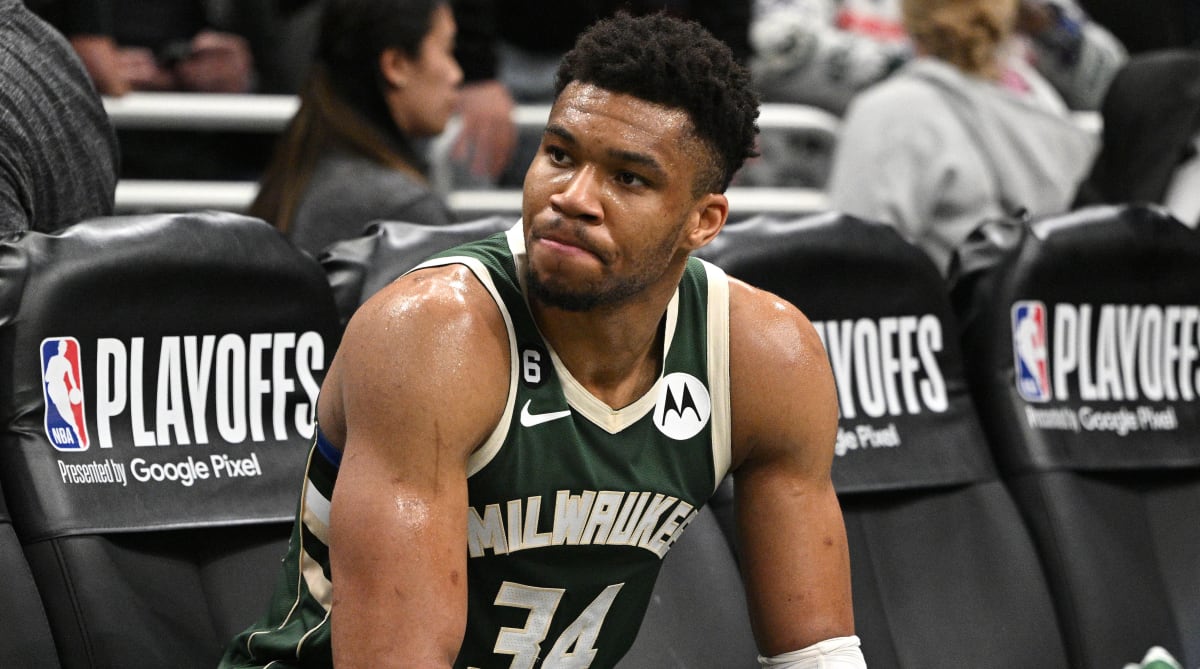 For those keeping score at home: Milwaukee finished last season with the league's best record, but then got knocked out in the first round—in five games—by Miami after Antetokounmpo suffered a back contusion during a hard fall during Game 1 of the series. That came one season after the shorthanded Bucks got knocked out in the second round. And both premature exits were far from the result in 2021, when Antetokounmpo led Milwaukee to an NBA championship.
"At the end of the day, being a winner, it's [more important than] that goal [of being with one team my entire career]," he told The New York Times back in August. "Winning a championship comes first. I don't want to be 20 years on the same team and don't win another championship." As it stands, Antetokounmpo is entering the third year of a five-season, $228 million contract. (He can opt out after the fourth year if he chooses.) The extension he's currently eligible for would tack on another three years and $173 million contractually.
It makes total sense for the 28-year-old Antetokounmpo, a consensus top-four player, to hold the Bucks to a championship-level standard before making a commitment. It's something that players of his caliber have done before. Wilt Chamberlain might have been the first to do it, but LeBron James made a ritual of signing what were effectively one-year deals in Cleveland, as a way of holding the small-market Cavs accountable from one year to the next. A number of other high-profile players, including Kevin Durant and Kawhi Leonard, have since done the same in the form of signing 1+1 contracts.
Now it's Giannis who wants to know exactly what he'd be signing up for by agreeing to another extension with Milwaukee. When he signed his supermax extension back in December 2020, it was after the Bucks spent big in the form of picks to pry Jrue Holiday from New Orleans in addition to landing free agent forward Bobby Portis and signing back Pat Connaughton on a multiyear deal. The team still has one of the best rosters in the league—if not the best—with Antetokounmpo, Holiday, Khris Middleton, big man Brook Lopez and a several key role players.
What remains to be seen, though, is how the team will age in the next year or two. Aside from the fact that there's a new coach leading things—former Toronto assistant Adrian Griffin took over for title-winning coach Mike Budenholzer, who was let go in May—Holiday turned 33 in June. Middleton is 32, and has dealt with consistent injuries in recent years, including one that held him out of the East semifinals in 2022. Lopez will turn 36 before the playoffs begin.
Another early exit would almost certainly require general manager Jon Horst to make some key roster changes as a means to convincing Antetokounmpo to sign long term. All of which explains why the Bucks, snakebitten each of the past two seasons, will be crossing their fingers for good health in this pivotal season, with their star's choice on an extension potentially hanging in the balance.