Good morning, I'm Dan Gartland. I'm not sure who to root for in the men's Final Four on Saturday. If the team from my home state, UConn, loses, then I'll win a bracket pool for the first time.
In today's SI:AM:
⛹️‍♀️ Caitlin Clark's historic performance
If you're reading this on SI.com, you can sign up to get this free newsletter in your inbox each weekday at SI.com/newsletters.
A Final Four unlike any other
After an uncommonly unpredictable season in men's college basketball, we're left with the most unpredictable Final Four of all.
For the first time in men's and women's NCAA tournament history, the Final Four will not feature any No. 1, No. 2 or No. 3 seeds. This year's hodgepodge group on the men's side includes No. 4 UConn, No. 5 Miami, No. 5 San Diego State and No. 9 Florida Atlantic.
Pat Forde warned from the beginning that this would be a chaotic tournament. There was no clear-cut favorite to win it all because every team had its faults, and the result is a Final Four no one could have seen coming. That isn't to say that the four teams left standing don't deserve to be there, though. UConn is ranked No. 1 in KenPom. FAU has won more games (35) than any team in the country. San Diego State is a veteran-laden team whose top nine scorers are upperclassmen. Miami is led by a coach (Jim Larrañaga) who likely secured his spot in the Hall of Fame by taking the Hurricanes to the Final Four 17 years to the day after he did so with George Mason.
But is this unlikely Final Four indicative of some larger trend in the sport? It does coincide with some major changes in college athletics, namely the transfer portal and players' ability to be compensated for their name, image and likeness, but Forde isn't convinced that we can draw significant conclusions from this one tournament:
Is this a sea change of sorts in the sport? Probably not. There is a temptation to make sweeping statements about an all-chaos Final Four—NIL! Transfer portal!—but it might be misplaced here. If this is a Halley's Comet season, we can all gaze at it and contemplate the grand meaning of the cosmos. Or we can just enjoy the wild light show as it passes.

There certainly are modern factors at work. Miami is a name, image and likeness winner, with a well-compensated backcourt leading the Hurricanes to Houston. But while San Diego State has impact transfers, it has been pulling in impact transfers for many years—well before the portal became a thing. Florida Atlantic and Connecticut are largely organically built: Four of the five Huskies starters have spent their full college career at the school, and the only first-year transfer having an impact at FAU is Jalen Gaffney (from UConn, coincidentally).
Some people will be tempted to complain about a Final Four without the most recognizable teams and players, but years like this are what make the NCAA tournament so fun. One week from tonight, either San Diego State or FAU will be playing for a national championship. Every sports fan has to admit that's pretty fun.
The women's tournament is the Caitlin Clark show
While the men's tournament has been ruled by chaos, the women's tournament has been far more predictable (even though UConn had its Final Four streak snapped). That's because, unlike on the men's side, there is a clear-cut best team (South Carolina) led by one Player of the Year candidate (Aliyah Boston) and a No. 2 seed with an equally dominant star player (Iowa and Caitlin Clark).
Clark had perhaps the best game in NCAA tournament history last night in the Hawkeyes' Elite Eight win over Louisville: 41 points, 12 assists and 10 rebounds. She shot 11-of-19 from the field (8-of-14 from three) and 11-of-13 from the line. The only blemish was her nine turnovers.
Clark became the only player in women's NCAA tournament history to have a 30-point triple double and the first in men's or women's tournament history to have a 40-point triple double. She's the only player in Division I history (men's or women's) to have multiple 35-point triple doubles. Earlier in the night, she became the first player in Division I history (again, men's or women's) to score 900 points and record 300 assists in a single season.
With last night's win, Iowa advanced to its first women's Final Four since 1993. LSU beat Miami in the other game to join the Hawkeyes in Dallas. Tonight South Carolina will face Maryland and Virginia Tech will face Ohio State to round out the Final Four. If the Gamecocks prevail, they'll face Clark and Iowa in what would be a tantalizing matchup of an elite offensive weapon and the nation's best defense.
The best of Sports Illustrated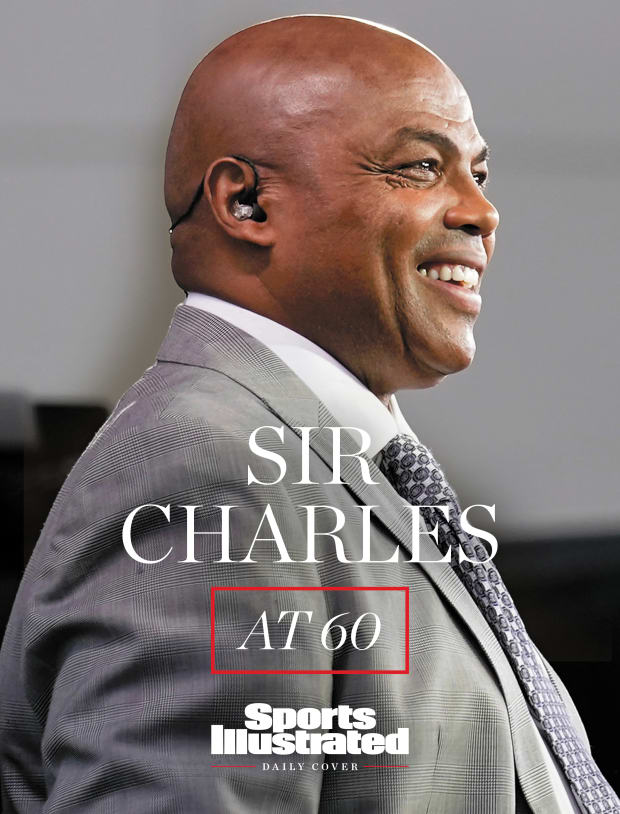 The top five...
… non-NCAA tournament things I saw yesterday:
5. Three offensive rebounds (and a massive put-back dunk) on a single possession by Evan Mobley.
4. Jaren Jackson Jr.'s block on John Collins.
3. Karl-Anthony Towns's game-winning three against the Warriors.
2. Predators goalie Kevin Lankinen's sprawling save.
1. Cristophe Tellier's hand-eye coordination on his goal in Quinnipiac's win over Ohio State in the NCAA men's hockey tournament.
SIQ
Former Eagles quarterback Randall Cunningham, who turns 60 today, is in the top three on which of the following all-time NFL leaderboards?
Longest touchdown pass
Longest touchdown run by a quarterback
Longest punt
Longest reception by a quarterback
Friday's SIQ: Former Colts kicker Mike Vanderjagt is one of the most accurate kickers in NFL history, but it took him a while to break into the league. Which team gave Vanderjagt his first consistent professional playing time?
Toronto Argonauts
Barcelona Dragons
New York/New Jersey Hitmen
Iowa Barnstormers
Answer: Toronto Argonauts. Vanderjagt had been a quarterback growing up in the Toronto suburbs and went to Michigan State as a quarterback and kicker. But without much room at QB, he wound up at a junior college in California before finishing at West Virginia. In his first season with the Mountaineers, as a junior, Vanderjagt only punted, but he took over the kicking duties as a senior in 1992.
After finishing at WVU, Vanderjagt appeared in two games for the CFL's Saskatchewan Roughriders in 1993. But from '93 to '96 he was cut repeatedly. He kicked in two games for the Minnesota Fighting Pike in '96 of the Arena Football League before landing back with the Argos for the '96 CFL season, becoming their regular kicker and punter. (CFL teams usually employ one player to handle both placekicking and punting.)
Vanderjagt made 71.4% of his field goal attempts in 1996 and 76.7% in '97, at which point he got the opportunity to jump to the NFL with the Colts. He immediately became one of the most accurate kickers in the NFL, making 87.1% of his attempts as a rookie in '98. In 2003, he went a perfect 37-of-37 on field goal attempts and 46-of-46 on extra points.
Vanderjagt retired in 2006 with a career field goal percentage of 86.5%, which was the highest in NFL history at the time. But as NFL kickers have become more accurate in recent years (the leaguewide field goal rate rose from 79.6% in 1998 to 85.0% last season), six active kickers have had higher field goal percentages than Vanderjagt, led by Justin Tucker (90.5%).