HAYSVILLE, Kan. (KSNW) – On May 3, 1999, an F4 tornado tore through Haysville and south Wichita.
The tornado had winds estimated between 207 to 260 mph. Its track was 24 miles long and around one-half mile wide. It killed six and caused around $140 million in damage.
The tornado went nearly straight north along Seneca to Interstate 235 into Wichita. From there, the tornado weakened as it traveled northeast. Tree damage was also observed as far north as College Hill, where numerous trees were uprooted.
"I got a notice that it was coming straight up north along the railroad tracks, and I hustled my kids to the basement and the next thing you know, I'm getting a phone call from our dispatcher saying, 'Mayor, we've gotten a direct hit,'" said Tim Norton, former Haysville Mayor.
"It's almost like you're in denial," said Carol Neugent, former Haysville City Administrator.
Neugent says she lived a block away from where the tornado passed through the tornado effectively splitting Haysville in half.
"The way the trail was one of the most difficult ways it could have traveled through our city …people that lived on one side, that needed maybe to get to public works, they were actually having to go around or walk across," said Neugent.
The next 36 hours after the tornado would prove a non-stop effort to survey the damage. Neugent's first site was the sunset fields neighborhood.
"We're there with the tractor lights, and we're kinda shining over through that neighborhood, and it was like, I don't see it, and that's when we realized the entire neighborhood had been taken out," said Neugent.
Norton says the City created its own emergency action plan in the wake of the 1991 Andover tornado, a move that made for swifter response times across multiple agencies.
"We had rewritten a lot of our codes and a lot of the emergency management book, and particularly put a lot of phone numbers and people to contact, and it really helped," said Norton.
Neugent says at one point, the City estimated 40,000 volunteers made their way into Haysville to lend a helping hand.
"Sometimes you see things you wish you wouldn't, but as far as coming and helping, and like I said, we didn't even have to call our neighboring cities for them to show up, so it was amazing," said Neugent.
Neugent says volunteers from as far as Topeka drove out to assist in the recovery effort. To give you an idea of just how far the debris traveled, Neugent says one person from Topeka actually drove to Haysville to deliver pictures from a photo album that the storm had picked up.
Tornado alley outbreak
The tornado was part of an outbreak that day in Kansas, Oklahoma and Texas.
The most infamous, no doubt, was the immense F5 that tore through Moore, Oklahoma. Oklahoma City's KFOR-TV documented the outbreak with storm trackers.
The National Weather Service said a portable Doppler measured rotational velocities that may have reached 318 mph just off the ground, the most violent winds ever recorded on Earth. The storm caused nearly $1.1 billion in damage.
National Weather Service radar from May 3, 1999: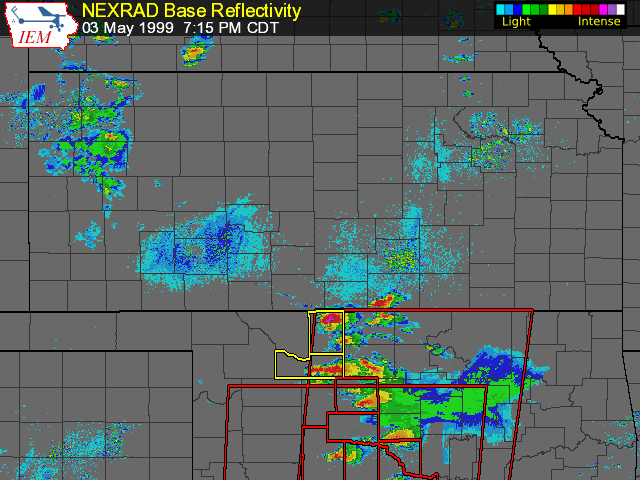 The NWS says 74 tornadoes were reported that day, of which 58 occurred in Oklahoma.